Review: One Foot In The Grave by Jeanine Frost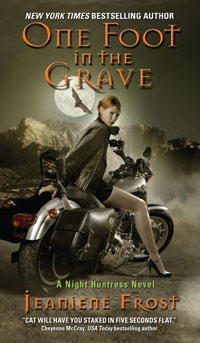 Goodreads Blurb:
Half-vampire Cat Crawfield is now Special Agent Cat Crawfield, working for the government to rid the world of the rogue undead. She's still using everything Bones, her sexy and dangerous ex, taught her, but when Cat is targeted for assassination, the only man who can help her is the vampire she left behind.


Being around Bones awakens all her emotions, from the adrenaline rush of slaying vamps side by side to the reckless passion that consumed them. But a price on her head – wanted: dead or half-alive – means her survival depends on teaming up with Bones. And no matter how hard Cat tries to keep things professional between them, she'll find that desire lasts forever … and Bones won't let her get away again.



My Thoughts:
The Night huntress series continues with this amazing book. Cat has tried for the last four years to move on with her life after she left Bones to protect him but she is barely living. She lives to fight the undead and that's it. Her team has finally accepted her being a half-breed. But on her latest mission, Cat comes across a vampire who she cannot kill, not because she doesn't have the strength but because Ian is Bone's sire.


But not killing Ian was a big mistake. Because Ian has a thing for rare and unique treasures and Cat just happens to be the most unique thing in the world and Ian wants her as his own. So when another hit is put out on Cat it is nothing new but she never would have guessed who really wants her dead.


I absolutely love the Night Huntress series. Unlike most of the Urban Fantasy reads that are out there. This series is hilarious and action packed and has the great heroine and leading male I have ever read. Bones is a cocky arrogant vampire who knows exactly what he is capable of and will stop at nothing to protect that woman he loves. Cat doesn't take crap from anyone and will not let herself go down without the fight of her life.


One of my favorite series and it just keeps getting better and better. Frost has no problem keeping you wanting more of Cat and Bones and I have no problem indulging myself in the amazing world of "The Night Huntress"


I Give this 5/5 Hearts!