ARC Review: Kissing Ted Callahan ( and other guys) by Amy Spalding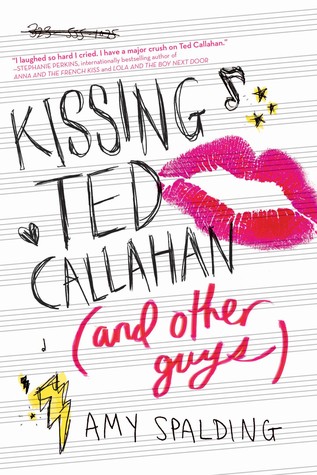 Kissing Ted Callahan ( and other guys) by Amy Spalding
Release Date: April 7 2015
Format: ARC Paperback
Pages:312
Publisher: Poppy
Genre: YA
Source: Publisher

Goodreads Synopsis:
Nick and Norah's Infinite Playlist meets Easy A in this hilariously realistic story of sneaking out, making out, and playing in a band.

After catching their bandmates in a compromising position, sixteen-year-old Los Angelenos Riley and Reid become painfully aware of the romance missing from their own lives. And so a pact is formed: they'll both try to make something happen with their respective crushes and document the experiences in a shared notebook.

While Reid struggles with the moral dilemma of adopting a dog to win over someone's heart, Riley tries to make progress with Ted Callahan, who she's been obsessed with forever-His floppy hair! His undeniable intelligence! But suddenly cute guys are popping up everywhere. How did she never notice them before?! With their love lives going from 0 to 60 in the blink of an eye, Riley and Reid realize the results of their pact may be more than they bargained for


My Thoughts:
Kissing Ted Callahan and other guys is an extremely funny and quirky coming of age story. The character's are hilarious and it was a very fun light read.

This is one of those books that you can't help but have a smirk on your face the entire time you read it. It is just so awkward and sweet and makes you wish for the easier years.

I have to say that Riley and Reid made my heart melt. With something as monumental as love and sex in high school why not document it? My not write all your thoughts down in a notebook and pass it back and forth with your best friend?

I smiled throughout the entire book and laughed out loud multiple times. This is the type of light fresh reading you need after you've read too many heavy books.

This is the first novel from Amy that I have read and I have definitely become a fan. I am looking forward to reading more of her work.