Blog Tour:All The Rage by Courtney Summers Review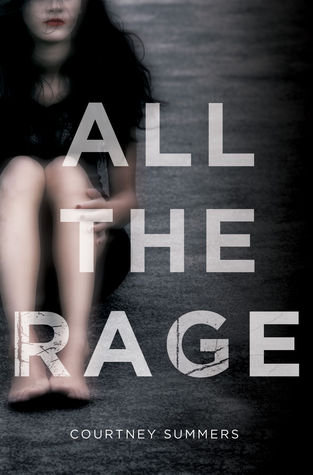 All The Rage by Courtney Sumers
Release Date: April 14 2015
Format: ARC Paperback
Pages:336
Publisher: St Martins Press
Genre: YA/ Contemporary
Source: Publisher
Goodreads Synopsis:
The sheriff's son, Kellan Turner, is not the golden boy everyone thinks he is, and Romy Grey knows that for a fact. Because no one wants to believe a girl from the wrong side of town, the truth about him has cost her everything—friends, family, and her community. Branded a liar and bullied relentlessly by a group of kids she used to hang out with, Romy's only refuge is the diner where she works outside of town. No one knows her name or her past there; she can finally be anonymous. But when a girl with ties to both Romy and Kellan goes missing after a party, and news of him assaulting another girl in a town close by gets out, Romy must decide whether she wants to fight or carry the burden of knowing more girls could get hurt if she doesn't speak up. Nobody believed her the first time—and they certainly won't now — but the cost of her silence might be more than she can bear. 
With a shocking conclusion and writing that will absolutely knock you out,
All the Rage
examines the shame and silence inflicted upon young women after an act of sexual violence, forcing us to ask ourselves: In a culture that refuses to protect its young girls, how can they survive
My Thoughts:
Honestly I don't even know where to start. All The Rage is heartbreaking, edgy and scary. It is scary because the topic is real and dangerous and it happens more than we like to think about. Romy's life used to be amazing. She was popular and smart and had everything going for her. But one night changed all of that. She tries to come forward but she is made out to be a liar. No one was there for her.
Romy tries to shelter herself the best way she knows how but when the senior party goes horribly wrong, and two girls end up missing but only one girl comes home, Romy is forced to face her past. During the scary weeks where her once best friend is missing and the town pulls together to find her, lies are revealed and what happened that horrible night to Romy a year ago is brought front and centre. Romy discovers the truth about her best friend and how not everyone forgot about that night.
All The Rage will leave you breathless. It will leave you asking questions and wondering how this can happen? How can an entire town turn their backs on this girl? How can we live in a society where it is ok to push this under the rug?
Romy's situation made me mad on behalf of her and everyone else who has experienced this. It made me want to pull my hair out and weep for these girls. It was hard to get through at some points but only because of how powerful the entire thing is. To say that I thoroughly enjoyed this is an understatement. This is one of those novel's that will stick with you long after you have finished it.
This is an extremely sensitive topic but I love how Courtney holds nothing back. She sheds light into a horrific situation that no one wants to talk about. I loved All The Rage and I hope that this book can help someone out there when they need it most.