ARC Review: Dangerous Lies by Becca Fitzpatrick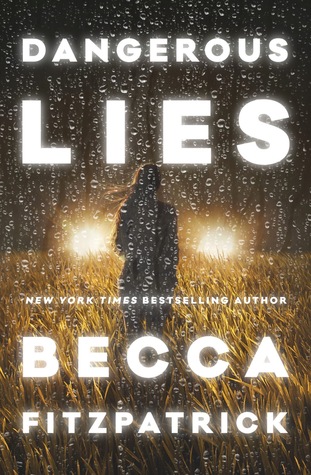 Dangerous LIes by Becca Fitzpatrick
Release Date: November 10 2015
Format: ARC Paperback
Publisher: Simon and Schuster
Pages: 400
Genre: YA/ Thriller
Source: Publisher



Goodreads Synopsis:A teen is forced to make a fresh start after witnessing a violent crime—but love and danger find her anyway in this novel from Becca Fitzpatrick, theNew York Times bestselling author of the Hush, Hush saga.
Stella Gordon is not her real name. Thunder Basin, Nebraska, is not her real home. This is not her real life.


After witnessing a lethal crime, Stella Gordon is sent to the middle of nowhere for her own safety before she testifies against the man she saw kill her mother's drug dealer.

But Stella was about to start her senior year with the boyfriend she loves. How can she be pulled away from the only life she knows and expected to start a new one in Nebraska? Stella chafes at her protection and is rude to everyone she meets. She's not planning on staying long, so why be friendly? Then she meets Chet Falconer and it becomes harder to keep her guard up, even as her guilt about having to lie to him grows.

As Stella starts to feel safer, the real threat to her life increases—because her enemies are actually closer than she thinks…



My Thoughts:
Another wonderful novel by Becca Fitzpatrick. I was not disappointed in the least and I am loving the fact that she is crossing genres. This Thriller was well written and had the right amount of suspense and romance. Stella's journey is not a glamorous one at all. After witnessing a heinous crime and trying to do the right thing her entire world is ripped apart when she is sent into Witness Protection.

The life that Stella once knew is now over and she has to find herself again when she is relocated to Thunder Basin. A town in the middle of nowhere, which could not be further from the life she once lead.

I enjoyed this book so much. It was a real page turner. The danger and and suspense pours off the pages. The romance is great as well. She meets Chet who could not be further from the boy she is in love with but can no longer be with. He takes southern gentlemen to a whole new level and I adored him. But as Stella tries to navigate her new life she knows that there is no room for romance. But the heart doesn't always listen.

But she finds herself facing knew dangers while in Thunder Basin and it seems that she just cannot outrun her past.

The characters are fantastic and the plot is twisty and will keep you on your toes. Just when you think you might have things figured out, Becca throws you for a loop and inserts so many new threats that you will not be bored or disappointed.

At the beginning of the book I couldn't help but think how bratty Stella was. But the growth she had throughout the novel was fantastic. I love books were the characters grow and learn. I also think Chet was the perfect balance for her. Her relationship with him helped her grow and realize that she couldn't go back to her old life, even if she wanted too.

To say I enjoyed this is an understatement. It was a thrill and I am actually upset that I finished it as quickly as I did. I wish I could have stayed in Thunder Basin for just a little while longer.