Review: Him by Sarina Bowen and Elle Kennedy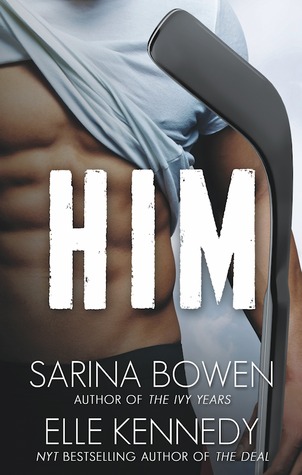 Him by Sarina Bowen and Elle Kennedy
Release Date: July 25 2015
Publisher: Rennie Road Books
Pages: 276
Format: E-Book
Genre: New Adult, M/M
Source: Amazon CA

Goodreads Synopsis:

They don't play for the same team. Or do they?

Jamie Canning has never been able to figure out how he lost his closest friend. Four years ago, his tattooed, wise-cracking, rule-breaking roommate cut him off without an explanation. So what if things got a little weird on the last night of hockey camp the summer they were eighteen? It was just a little drunken foolishness. Nobody died.

Ryan Wesley's biggest regret is coaxing his very straight friend into a bet that pushed the boundaries of their relationship. Now, with their college teams set to face off at the national championship, he'll finally get a chance to apologize. But all it takes is one look at his longtime crush, and the ache is stronger than ever.
Jamie has waited a long time for answers, but walks away with only more questions—can one night of sex ruin a friendship? If not, how about six more weeks of it? When Wesley turns up to coach alongside Jamie for one more hot summer at camp, Jamie has a few things to discover about his old friend...and a big one to learn about himself.
Warning: contains sexual situations, skinnydipping, shenanigans in an SUV and proof that coming out to your family on social media is a dicey proposition.
My Thoughts:
Wow. I am in love with both Jamie and Ryan. I don't know what I was expecting from this when I purchased it but what I got was a stellar read. I fell in love with these character's so hard! I could not put this book down. I bought this because I had read Elle Kennedy's Off Campus series and I was intrigued by the M/M factor. I was not disappointed at all with this book. It was so cute and wonderful in so many ways. I loved going through Jamie and Ryan's story, The love they have for each other just pours off the pages. I really loved this book.
Jamie and Ryan were best friends for years during their summer hockey camp. A friendship that both of them thought was going to last a lifetime. Until the last night of camp a dare turned into something so much more. Ryan had always known he was gay. He had been in love with his best friend for years. When he had thought that the friendship was over, Jamie and Ryan both end up playing each other in a championship game. Ryan is determined to rekindle his friendship with Jamie. But what he got was so much more.
Jamie missed his best friend. He wanted nothing more than to go back four years and have Ryan by his side again. When fate turns its head and Jamie and Ryan both end up coaching at their childhood hockey camp, Jamie is in for the ride of his life.
I could not get enough of this book. It was so well written and funny and heartwarming. I felt my insides turn to goo as the story continued and these two amazing males embark on the the scariest, most fulfilling journey of their lives. Neither one of them expected it to end the way it did.
If anyone has read Elle Kennedy's Off Campus series y
ou know how funny she is. The connection that her characters' have is hard to ignore. Jamie and Ryan would do anything for each other but the last thing that Ryan wants is to make Jamie's life hard. Is he willing to walk away or will he be selfish enough to try to keep Jamie The self discovery and general life lesson's in this book also make it wonderful. I honestly cannot praise this book enough. I loved it! These characters' are the type of characters' that I need more of. I want more books written about them or with them in it. I just need more!
It is a full Male on male read, so for those of you who are not into that type of book or are uncomfortable with it, then this would not be the book for you. But for those who don't mind either way, this is a fantastic read.