Meet Me On Monday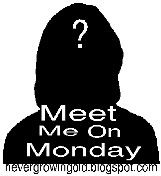 Questions:
1. What is your favorite kind of pie?
I love Apple Pie thats been warmed up with Vanilla Ice Cream
2. Have you ever ran out of gas in the car you were driving?
Nope Still dont have my license :(
3. How many languages do you speak?
I currently speak English and French but I am learning Italian. The hubby is Italian
4. Do you take daily vitamins?
Nope No need. I am young and as healthy as a horse
5. What is your worst eating habit?
Ok I totally indulge in chocolate. Lots and Lots of chocolate. But that's not bad right. It's been proven that chocolate is good for you :)