I got an Award!
Ok so I have been a little busy lately and I haven't gotten around to posting a wonderful award that I received this week!


The wonderful Theresa from Fade Into Fantasy awarded me with this lovely award!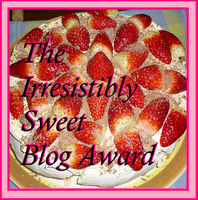 Yes Thats right she thinks Im sweet! The hubby would probably disagree with her but hey Im thrilled lol!


So the rules for this great award are the following:
1. Share 4 guilty pleasures
2 Share this with 6 amazingly sweet blogs!


Ok so my 4 Guilty Pleasures would have to be


1 BOOKS but I think thats the same for all of us right! lol I love curling up at the end of the day, after all my kids have gone to sleep and I curl up with a hot coffee and a great read.


2 Hot Bubble Baths. They are seriously the only silent time I get to myself lol ( I have to lock the door to do so)


3 Horror Movies.. I don't know why but I always find myself watching one just before bed and getting scared and curling up the the hubby.. purposeful not sure what do you think :) lol


4 DEAN WINCHESTER!! Yes I love Dean from Supernatural! I dream about him all the time lol


Those are my guilty pleasures! And I enjoy each and everyone of them!


So now I am going to pass this lovely award onto 6 super sweet blogs and here they are:
Eleni at La Femme Readers
Rane at The Lit Express
Brandi at Blkosiner
Kristin at My Bookish Ways
Crystal at Reading Between The Wines and Book Club
Ash at Smash Attack Reads


This was great! Thanks so much Theresa! I hope everyone love these blogs as much as I do!


Have a Great Super Bowl Sunday!!