Review: Fire with Fire by Jenny Han and Siobhan Vivian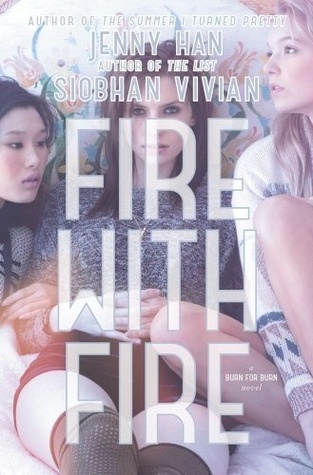 Fire with Fire by Jenny Han and Siobhan Vivian
Release Date:August 13 2013
Publisher: Simon and Schuster for Young Readers
Format: Hardcover
Pages: 528
Source: Purchased

Goodreads Synopsis:
Lillia, Kat, and Mary had the perfect plan. Work together in secret to take down the people who wronged them. But things didn't exactly go the way they'd hoped at the Homecoming Dance.

Not even close.

For now, it looks like they got away with it. All they have to do is move on and pick up the pieces, forget there ever was a pact. But it's not easy, not when Reeve is still a total jerk and Rennie's meaner than she ever was before.

And then there's sweet little Mary…she knows there's something seriously wrong with her. If she can't control her anger, she's sure that someone will get hurt even worse than Reeve was. Mary understands now that it's not just that Reeve bullied her—it's that he made her love him.

Eye for an eye, tooth for a tooth, burn for a burn. A broken heart for a broken heart. The girls are up to the task. They'll make Reeve fall in love with Lillia and then they will crush him. It's the only way he'll learn.

It seems once a fire is lit, the only thing you can do is let it burn..



My Thoughts:
WOW! To say that I did not see it coming is a bit of an understatement. This fantastic story is of three girls seeking their revenge on those who have wronged them. It is a great revenge story but also a great tale of is it really worth it? Where Han and Vivian took the story shocked me. I honestly didn't see it turning out this way. Burn for Burn (bk 1) was fantastic and I was so thrilled to read Fire with Fire. I was not disappointed at all. When you read as much as I do it becomes very easy to almost predict where a story is going to go. After all the books that I have read it is very hard for me to be surprised. Well I was extremely surprised with this one. This is a very good story. If you haven't read Burn for Burn or Fire with Fire yet you definitely should. It will not disappoint. This review is extremely vague because I do not want to give away any spoilers but just know that you are going to want to take this ride with Kat, Mary and Lillia.