ARC Review: Idols by Margaret Stohl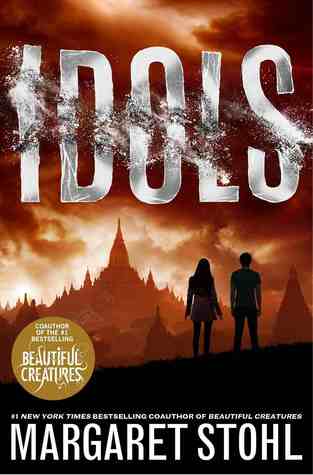 Idols by Margaret Stohl
Release Date: July 8 2014
Publisher: Little Brown For Young Readers
Format: ARC Paperback
Pages: 345
Source: Publisher

Goodreads Synopsis:
The Icons came from the sky. They belong to an inhuman enemy. They ended our civilization, and they can kill us.

Most of us.

Dol, Ro, Tima, and Lucas are the four Icon Children, the only humans immune to the Icon's power to stop a human heart. Now that Los Angeles has been saved, things are more complicated - and not just because Dol has to choose between Lucas and Ro, the two great loves of her life. As she flees to a resistance outpost hidden beneath a mountain, Dol makes contact with a fifth Icon Child, if only through her visions. When Dol and the others escape to Southeast Asia in search of this missing child, Dol's dreams, feelings and fears collide in an epic showdown that will change more than just four lives -- and stop one heart forever.

In this riveting sequel to Icons, filled with nonstop action and compelling romance, bestselling author Margaret Stohl explores what it means to be human and how our greatest weakness can be humanity's strongest chance at survival


My Thoughts:
This stunning sequel to Icons was a real page turner. The story of Dol, Ro, Lucas and Tima continue as their journey to stop the Lords is as important as ever. They still have no idea who they are or why they an do what they can do but as more of their questions get answered more questions arise. Why are they the only ones are are supposed to be able to stop the Lords?

Dol finds herself dreaming of a girl. A possible fifth icon child. So they set out to find her only to realize that their lives are even more predestined than they ever could have imagined. Their already messed up lives get turned upside down even more.

Dol and Lucas' relationship continues to grow but she knows that she will always love Ro. But can she love him in the way he so desperately wants her to?

Idols is a great story about humanity, faith. love and family. How far are you willing to go to save everyone you love? Margaret is an amazing storyteller and it is very easy to get stuck within the pages of her books.
The character's have great chemistry and the character development is fantastic.

I was able to connect with each character, which is hard to do sometimes. But you can't help as the story unfolds you can't help but feel like you are along for the ride just as much as the character's. A fast-paced page turner that will keep you guessing until the very last second.