ARC Review: Love,Lucy by April Linder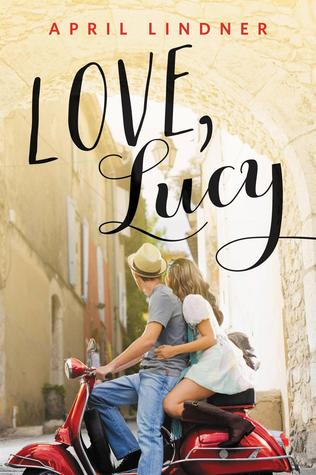 Love, Lucy by April Linder
Format: ARC Paperback
Publisher: Poppy
Pages:290
Genre: YA
Source: Publisher

Goodreads Synopsis:
While backpacking through Florence, Italy, during the summer before she heads off to college, Lucy Sommersworth finds herself falling in love with the culture, the architecture, the food...and Jesse Palladino, a handsome street musician. After a whirlwind romance, Lucy returns home, determined to move on from her "vacation flirtation." But just because summer is over doesn't mean Lucy and Jesse are over, too.

In this coming-of-age romance, April Lindner perfectly captures the highs and lows of a summer love that might just be meant to last beyond the season.



My Thoughts:
I am so thrilled to have been able to read this book early. Love,Lucy was romantic and heart breaking all at the same time. Love, Lucy was really a coming of age story. A great story of finding oneself and going after what you want despite what other's have to say about it.

Jesse and Lucy's romantic week together in Italy did not end the way she expected. Lucy knew that it was going to be short lived but their romance was so much more to her than she ever expected it to be. But as all good stories go, she couldn't stay forever and ended up having to leave him in Europe.

Being back home doesn't lessen her feelings for Jesse one bit. But as reality sets in can Lucy really have what she wants? Or will she end up doing exactly what her father wants and leave all her dreams behind?

You must read Love,Lucy, It was a fantastic read and had the most romantic setting. It was realistic in the problems that Lucy faced and had the most important element of all, a love story.