ARC Review: How To Say I Love You Out Loud by Karole Cozzo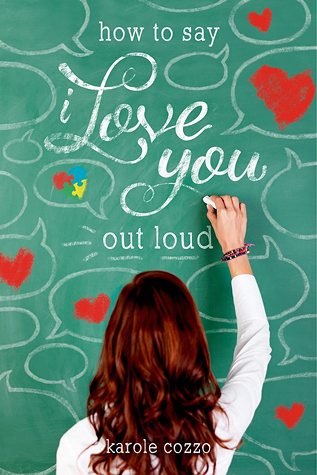 How To Say I Love You Out Loud by Karole Cozzo
Release Date: August 4 2015
Publisher: Swoon Reads
Pages:215
Genre: YA
Source: Publisher





Goodreads Synopsis:
Words are strong. Love is stronger.

When Jordyn Michaelson's autistic brother joins her at her elite school, she's determined not to let anyone know they're related. Even if that means closing herself off to all her closest friends, including charming football stud Alex Colby. But despite her best intentions, she just can't shake the memory of kissing Alex last summer, and the desire to do it again.

Can Jordyn find the courage to tell Alex how she really feels—and the truth about her family—before he slips away forever?


My Thoughts:
This story was absolutely exceptional. I may be a bit biased because the subject matter is one that I am intimately familiar with but this story spoke to me on so many levels. It was an emotional roller coaster from start to end but I am glad because it would not have been the same.

I laughed and cried and did a major happy dance at the end of this book. It was a very well written novel and the character's were believable and entertaining. Jordyn's relationship with Alex was fantastic. Alex is a great character and he helps Jordyn grow into the person that she was meant to be.

All Jordyn wanted was a normal life. A regular high school experience. It was easier when her brother went to a different school but when her world collides with his Jordyn has to come to grips with who she is and what is most important to her.

I cannot write this review properly without including a whole bunch of spoilers but needless to say this was an amazing book that will invoke all of the emotions that you have and leave you wanting more. It is a must read and if you don't take the time to read this you will be missing out on a wonderful book. Bravo Karole, Bravo!