Review: Dirty by Kylie Scott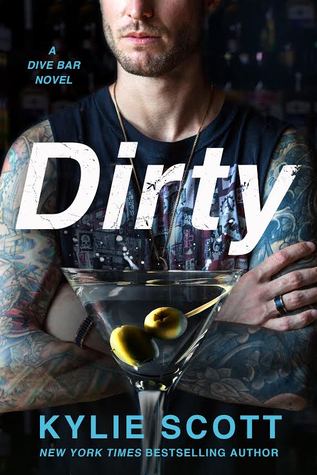 Dirty by Kylie Scott
Release Date; April 19 2016
Publisher: St Martin's Griffin
Format: E-copy
Pages:288
Source: Purchased

Goodreads Synopsos:
The last thing Vaughan Hewson expects to find when he returns to his childhood home is a broken hearted bride in his shower, let alone the drama and chaos that comes with her.

Lydia Green doesn't know whether to burn down the church or sit and cry in a corner. Discovering the love of your life is having an affair on your wedding day is bad enough. Finding out it's with his best man is another thing all together. She narrowly escapes tying the knot and meets Vaughan only hours later.

Vaughan is the exact opposite of the picture perfect, respected businessman she thought she'd marry. This former musician-turned-bartender is rough around the edges and unsettled. But she already tried Mr. Right and discovered he's all wrong-maybe it's time to give Mr. Right Now a chance.
After all, what's wrong with getting dirty?


My Thoughts:
Ah oh Vaughan!! Hotness overload! Seriously. Dirty was such a funny, heartwarming and overall great book. I read Dirty in one sitting. I love books like this.
I thoroughly enjoyed Dirty. Vaughan and Lydia's story is one of pure lust and love at first site. An unexpected by chance meeting leads to an unexpected whirlwind romance.

Lydia finds out on her wedding day that her soon to be husband has been seeing someone else. After pulling a Runaway Bride moment she ends up breaking into a nearby house and hiding in the shower to get away from the torment of her botched wedding. She definitely doesn't expect anyone to be home , let alone standing naked in front of her. Vaughan's reaction to a soaking wet bride in his shower is absolutely priceless.

This completely random off chance encounter leaves both Vaughan and Lydia in the weirdest predicament. But an unlikely friendship forms between the rocker and botched bride and they soon find that things definitely happen for a reason.

The characters in dive bar are absolutely fantastic. The entire atmosphere that surrounds Dirty makes you want to read more and stay with the character's for as long as you can. I absolutely loved every second of this book. One of the things I loved most was the crossover from Stage Dive, Kylie's first series. I always love spin off series where I get to continue to get sneak peeks of the original character's.

Dirty is a fun, fast paced read that will keep you thoroughly entertained. If you loved Kylie Scott's Stage Dive series than you are going to continue to love her work in Dirty. I cannot wait for Twist, book 2 in the Dive Bar series.